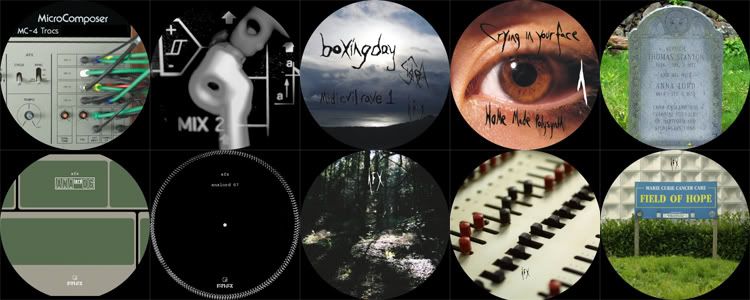 It's not entirely clear if these Analord tracks were recorded with the originals or more recently. Probably the former given the fact that they were part of a re-release of all the previous Analord EPs which happened last December, but still surprising given how much some of them stand out in comparison to some of those original tracks.
The Analord series, as far as I can tell, was a way for Aphex Twin to experiment with format. After DrukQs, he had made as intense and furious an electronic piece of work than anybody could make, so it makes sense that he would decide to simplify in a certain way.
As much as some of the Analord tracks seem like merely musical gestures as opposed to complete songs, the word simple or simplify doesn't really do them justice. Part of what makes Aphex Twin such an amazing artist is not just the basic composition of the music, but the texture and personality of the sounds he uses. As far back as anyone can trace his work, his songs have always had a very special emotive quality, and an incredible range within that as well. The Richard D. James album as an example is full of memorable moments. Moments that exude some pretty raw emotions for an electronic album: bliss, sadness, detachment, frenzy, and a hundred other unspeakable qualities. The stuff he creates is like a language unto itself, a form of musical expression that can't be described completely with words. And that is a quality I hold dear in the world of music. It's something that has stayed true throughout his career, including what he's done with the Analord series.
Obviously, not every song he creates is on that incredible level, but his overall body of work is worthy of that. He's broken barriers that allow you to judge his work in a context that you would not allow any other artist; he's truly set himself apart. And that makes it easier to appreciate the 'simpler' tracks as more than just a lazy experiment.
The tracks I chose as examples, these 'Chosen (by RAW 3) Lords' are actually the least simplistic of the bunch. They are the standouts with the most personality, the most highly developed. Anyway, here they are. Buy them here: www.rephlex.com.
These are a really sweet addition to the whole series, they round it out very nicely and give it a little more depth of personality. Now, hopefully my daily prayers will be answered when he actually releases an Aphex Twin album on Warp this year. One can only dream...
AFX - Love 7 by elpretentio2
AFX - In The Maze Park by elpretentio2
AFX - 3 Notes Con by elpretentio2
AFX - Stabbij by elpretentio2